Ok, final batch of new comics! Here we go!
All Star Western #1. Written by Jimmy Palmiotti and Justin Gray, art by Moritat.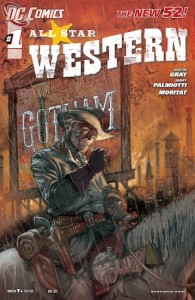 Had they just kept this comic titled "Jonah Hex", it would be as if they new DC never happened.
This is one of the few comics in the new batch that has at least some of the same crew working on it as before (but who else can really write Jonah Hex?).
A great comic, set in the wild West, starring a Bounty Hunter named Jonah Hex. What else do you need to know?
If you were a fan before, keep reading! It's like they never took a break!